What are dentures?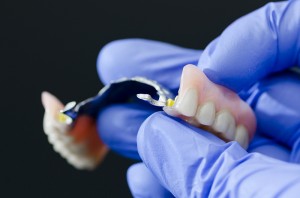 Dentures are a set of removable, natural-looking, artificial teeth that rest directly on the gums. Dentures are used to replace your missing teeth. Dentures prevent sagging of facial muscles, which makes a person look older. Dentures also allow you to eat and speak normally. We offer both full and partial dentures in Lindon, Utah. Full dentures, also known as complete dentures, are used to replace a full arch of missing teeth in the upper and/or lower jaw.
What is a partial denture?
Partial dentures are best for people with several teeth missing and whose adjoining teeth are too weak to hold a bridge. There are several different types of partial dentures depending on your individual needs:
Valplast partial
Acrylic partial
Removable partial
Partial dentures can prevent the remaining natural teeth from shifting into the space left by the missing teeth. At Scott M. Healey Dentistry, full and partial dentures are custom made to ensure that they fit your smile comfortably and securely. Dr. Scott Healey, our gentle dentist, will ensure that your full and partial dentures look aesthetic and natural. We welcome you to call or visit our dental office today to learn more about how dentures and partial dentures can improve your smile.