What is a bridge?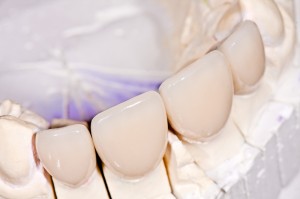 Bridges are natural-looking dental appliances that can replace a section of missing teeth. Because they are custom made, bridges are barely noticeable and can restore the natural contour of teeth as well as the proper bite relationship between the upper and lower teeth. The dental bridge is composed of one or more artificial teeth and two dental crowns. The dental crowns are placed on the adjacent teeth, which are called abutment teeth, to anchor the artificial teeth, which are called pontics.
Do I need a bridge?
Your dentist may recommend a dental bridge in order to:
Alleviate stress on the bite
Enhance the beauty of your smile
Prevent the remaining teeth from shifting in the mouth
Improve your ability to properly eat, chew and speak
Restore lost facial volume and shape
A custom dental bridge in Lindon, Utah, can typically be completed and placed in just two visits to our friendly dental office. Dr. Scott Healey and our skilled team will ensure that your dental experience is comfortable and enjoyable. To learn more about dental bridges and our other types of tooth replacements, we welcome you to call or visit us at Scott M. Healey Dentistry today. We are dedicated to improving your smile!