When should I take my child to the orthodontist?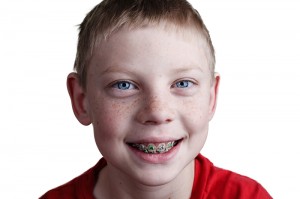 The recommended age to see an orthodontist is no later than 7 years. Although it is best to wait for all of the permanent teeth to be in before starting orthodontic treatment, there are a few occasions when early intervention is needed to help prevent abnormal wear or injury to protruding teeth, and to correct damaging habits or jaw disproportions. At your complimentary orthodontic consultation at Scott M. Healey Dentistry, we will thoroughly evaluate facial balance and any orthodontic needs you may have, along with an extensive TMJ (temporomandibular joint) evaluation. Our talented dentist and dental team will then determine if orthodontic treatment is needed and when the best time to begin treatment would be.
One of the benefits of early orthodontic treatment is that we can adjust the tooth and jaw alignment as the facial structure continues to develop. Early orthodontic treatment in Lindon, Utah, can help to prevent more serious problems in the future and start your child on the road to a more beautiful, functional and healthy smile. We welcome you to call or visit our dental practice today to learn more about the advantages of early orthodontic treatment and to schedule your visit with Dr. Scott Healey. We are eager to improve your smile!