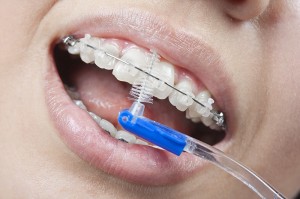 People who wear braces must be diligent in ensuring that food particles and other debris do not get trapped in the network of brackets and wires. In addition, brackets can leave stains on enamel if the area surrounding them is not cleaned on a daily basis.
How can I care for my smile while wearing braces?
Daily oral hygiene such as brushing, flossing and rinsing is a necessity. Orthodontic cleaning tools that emit small pressurized bursts of water that can effectively rinse away debris are also available. When in braces, it is important to stay away from chewy and crunchy foods so that your brackets do not fall off and hinder your treatment. We invite you to call or visit us today to learn more about how to properly care for your teeth, braces and other appliances during orthodontic treatment. We will be happy to provide you with more information on how to maintain good dental hygiene in Lindon, Utah. Dr. Scott Healey, our friendly dentist, and his dental team look forward to caring for your smile!