What is a filling?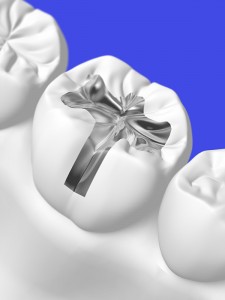 When decay creates a cavity, the dentist usually fills it with a durable material, which is most often a composite white material or a metal alloy called amalgam. We offer both white composite and silver amalgam dental fillings. White composite dental fillings are created using composite resin, which is available in a variety of shades. This range of shades allows Dr. Scott Healey, our talented dentist, to match the color of the filling to your natural tooth color, ensuring that the filling is a natural-looking restoration for your tooth. We also offer silver amalgam dental fillings. Amalgam dental fillings are sometimes regarded as more durable than composite dental fillings, but they are not as aesthetic.
Do I need a filling?
If your tooth suffers from minor to moderate tooth decay or damage, we may recommend a dental filling in Lindon, Utah. The procedure for placing dental fillings usually requires only one visit to our dental office. Dr. Scott Healey will first remove the decayed portion of the tooth and clean the tooth. He will then fill in the tooth with the chosen filling material and carefully shape the filling to ensure that it fits your smile comfortably. A filling can last for several years depending on its location, the material used and the amount of care given to that filling. We invite you to contact us at Scott M. Healey Dentistry today to learn more about how fillings can restore the health and function of your smile.