What is tooth extraction?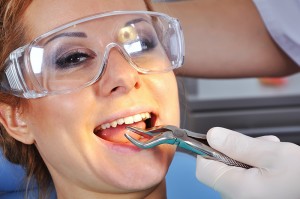 An extraction is performed when a tooth is so badly decayed or broken that it cannot be restored. Teeth are also extracted to make more room in the mouth when straightening is impossible. In addition, your experienced dentist may recommend tooth extraction in Lindon, Utah, if a tooth has been severely damaged by infection. Tooth extraction can prevent the infection from spreading to other areas of the mouth and allow your smile to begin to heal.
Do I need tooth extraction?
When restoration procedures such as root canal therapy, crowns, or fillings are not enough to save a tooth, it may need to be pulled, or extracted.
Tooth extraction procedures today are far less painful than ever before, thanks to powerful anesthetics and sedatives. In many cases, a patient who has a tooth pulled experiences little or no discomfort and only minor bleeding. Dr. Scott Healey and our dental team work hard to ensure that your visit to Scott M. Healey Dentistry is as pleasant as possible. We will provide detailed care instructions following the tooth extraction to help you care for your smile while it heals. To learn more about tooth extraction, and to schedule your visit to our dental office, we welcome you to call or visit us today.