What is crown lengthening?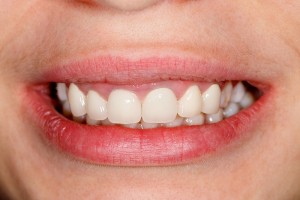 Many patients describe a perfect smile as big, bright, and full of teeth. Often they will describe this perfect smile as one with a good tooth-to-gum ratio. A "gummy smile," in which excessive gum tissue covers too much of the tooth structure, may be considered undesirable to some. Crown lengthening can deliver a fuller smile to those whose teeth are currently hidden behind an abnormally high gum line. Excessive gum tissue is not something you have to deal with for the rest of your life; crown lengthening can produce astonishing results. A corrective, crown lengthening procedure at Scott M. Healey Dentistry can redesign your smile, giving you the confidence you have always wanted.
Do I need crown lengthening?
If you have a "gummy" smile, crown lengthening might be what you need to achieve a more aesthetic look. Dr. Scott Healey may also recommend crown lengthening in Lindon, Utah, for certain types of dental restorations. If a tooth is damaged or broken too close to the gum line for us to effectively place a dental restoration, such as a crown, we may suggest crown lengthening in order to place the restoration. Our dentist will ensure that your crown lengthening treatment is comfortable and pleasant. For more information on the cosmetic and restorative benefits of crown lengthening, we invite you to contact our dental office today. We look forward to helping you achieve the healthy, beautiful smile you deserve!